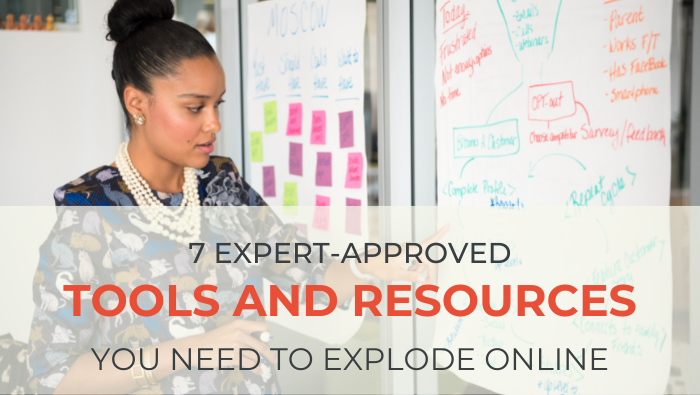 If you've been working on your online business for a while now, but haven't seen any increase in traffic or conversion, it could be because you've yet to take it seriously.
What?? But I do take it super seriously!
Do you really? Seriously enough to invest in it? To really treat it like a business, and not a hobby?
If that's the case, then you've come to the right place! And I'm here to give you a little tough love. If you're serious about making money online, about really starting a business, then there's going to be hard work involved. You're going to need to buckle down and sweat.
There's no get-rich-quick scheme that's going to work long-term. If you're looking to make a few quick bucks, that's one thing. But if you're looking to truly make a living, to change your life by creating a solid stream of income for yourself and your family, then there's going to be a considerable amount of work involved.
But what about those bloggers and online entrepreneurs telling you that it's easy and can be done in a month with no experience? They're either exaggerating, or it worked one month, they quickly posted about it, and then it never worked again.
But anyway, that's not what this post is about. This post is for those of you who are serious about their online business.
If that's you, then you know that you need to invest in it – not just time, but money as well. Sure, there are a lot of great free resources out there for you (here's a list of my favorite), but sooner or later you're going to realize that you just can't do everything for free. It's just not worth the investment time-wise.
At one point, it's just better to spend a few bucks on something rather than spend hours or days trying to do it for free.
But once you've reached that point, how do you know what you should invest in? And what you should keep trying to do for free?
So here are, in my experience, the first investments you should make once you get serious about your online business: 
Self-hosted website
You need to own your information. On a third-party hosted site (such as with WordPress.org or WIX when you don't buy a domain name – you know, when your website URL is something like username.wixsite.com/thisismysitename), you don't actually own your site. This means that any content you put on there can be taken down without any notice to you, and there's nothing you can do about it. There are also a lot of other inconveniences, especially if you're looking to monetize your site (which, if you want to start a business, you should probably be wanting to do, ahem…)
When you're on a third-party hosted website, you can be limited in how you make money on your site. One very popular method with most people is to have ads on your site. With a free subdomain (which your third-party hosted site will have), many ad networks will not allow you to place ads on it. This is the case for example with Google AdWords, one of the most popular networks.
Another disadvantage is SEO – search engines will not give much credit to your site if it's a subdomain, meaning it won't show up when someone searched online for your keywords.
You also can't customize your website as much as you can with a self-hosted one (one where you've paid for hosting and your domain name).
The price for hosting isn't excessive either, and well worth it. It's usually around the $10/month mark, so about $120/year.
Domain name
This goes with the above – when you're self-hosted, you'll need a domain name to go with your website. Your domain name is what you're going to put between the www and the .com or .whatever. Domain names are fairly cheap (usually less than $10 per year, unless you want a specific, popular one, in which case they can be quite expensive).
But this is a must-have. It's part of branding your site and your business. If you've got a free subdomain as mentioned above, then your URL will be something like pattysmith.wixsite.com/lovewhatyoudo.
Besides looking unprofessional, it's also too long (length matters), and difficult to remember.
If you get your own domain name, it'll be www.lovewhatyoudo.com
Much better, no?
E-Mail provider
This one is a bit of a toss-up. In my opinion, there are both advantages and disadvantages to getting a paid email provider – it's not for everyone (read a great article about it here! It tells you whether switching from MailChimp – a free provider – to ConvertKit – a paid provider – is the right move for you).
Personally, I started out with MailChimp, but switched to ConvertKit pretty quickly because I realized that MailChimp was very limiting for what I wanted to do (I want to be able to tag my subscribers in a much more refined way than what I could do with MailChimp).
I decided to do the switch sooner rather than later (I hardly had ANY subscribers), because I felt like the longer I waited, the more of a pain it would be. But I decided this because I knew that sooner or later I'd make the switch. But again, this isn't for everyone, so read this article to help you decide if you're unsure!
Another quick point I wanted to make: for me, switching to ConvertKit – where I then needed to pay – upped my number of subscribers in a big way. I think it was mainly due to the fact that because I now had skin in the game, I need to make this work! So it really motivated me to get my rear in gear. When it was free, I didn't really care all that much if people signed up or not – not exactly a winning mentality for a business!! *guilty smile*
But that's me, not everyone is like that! So for this, really consider what you want to do with your email list (again, read the above article, it really helps outline the pros and cons of both, albeit in a bit of a satirical way… 🙂 )
I've since changed providers multiple times for different reasons (pricing, wanting an all-in-one platform etc), and am currently using FEA Create, which for me currently is a great option.
Social media scheduler
Social media is going to be huge in getting awareness for your brand, and driving traffic to your website. While social media can seem either super comfortable or completely overwhelming (depending on your personal relationship to it), I believe it is (or should be!) an absolutely necessary and even vital part of any marketing strategy.
That said, it can suck up a lot of your time if you're not careful, which is why I HIGHLY recommend using schedulers. I personally use Buffer (a free tool, I speak about it a bit more here) for Twitter and Facebook.
But it's Pinterest I spend most time on, as it's Pinterest that drives most of my traffic (in a HUGE way). And Pinterest is a bit different – it's not really a social media platform so much as a visual search engine – so the way it's managed is different too.
This means that a pin that you add to one of your boards can be shared and seen by others for weeks, months and even years after you first pinned it, whereas posts on other social media sites (Facebook, Instagram, Twitter etc) have got an exceptionally short life span.
For all these reasons, it's highly worthwhile to me (and to many, many others as well) to spend most of my time promoting on Pinterest.
The issue is that social media schedulers that work with other platforms, don't work with Pinterest.
The one I recommend that's specifically for Pinterest is called Tailwind. This scheduler is approved by Pinterest (which makes a difference in how they share your content, because it's from a trusted source).
Tailwind is $10 a  month, depending on the plan you choose, but it's very, very worth it if most of your traffic comes from Pinterest, which it most likely will in the beginning.
Stock photos
I've already talked about the best source for free stock photos in my article here, but I really believe that when you get serious about wanting to grow your business, you should invest in paid stock photos.
The reason for this is simple: if you pin your content to Pinterest (which you really should be doing), then you're using visuals, right? Well, Pinterest uses those visuals to determine what your pin is about. The problem is that when too many pins have been created by too many people for too many different things with the same image (and with free stock photos, the odds of that happening are pretty high), Pinterest gets really confused about what your pin is really about.
And this is bad for you, because Pinterest will share your pin much less. And this, of course, will result in less traffic to your site.
So, once again, I strongly suggest investing in paid stock photos – you'll see a huge surge in traffic to your site when you do!
My personal favorite site for stock photos is Depositphotos, but there are many out there. If Depositphotos isn't for you for one reason or another, try a Google search to find that perfect one for you!
Courses
If you're serious about starting a business (which if you've read this post all the way to here, I'm going to assume you are), then you need to invest in yourself as well as your business.
This means taking courses in what will help you start, launch or grow your business, or a specific part of it.
I've got no specific suggestions for you here, because there's such a variety of courses and needs that it's really going to depend on what you need right now.
Try a Google search for courses in the skills that you're building, and see what comes up! The only suggestion I've got for you is regarding the research you do into the course.
Take the time to do it properly; look at what the course covers, what former students have to say about it, what the refund policy is, and so forth.
RELATED: Read the different things you should consider before enrolling in a course to study from home
Business coaching
As a business coach, I can hardly create a list of necessary resources and not mention coaching! 😉
I realize I'm not objective in this, but I truly do believe that investing in this alone can be transformative. It was for me.
A business coach (… a good one… obviously) will truly help you accelerate your business growth in a big way. They'll help you understand your target market better, put together an offer that sets you apart from your competition, create a compelling messaging strategy that will appeal to your perfect clients, and just help you reach your income goals much, much faster.
They do this both through their experience in business (so you don't have to research all of that on your own), as well as by helping you avoid costly mistakes.
Hiring a business coach can be an especially daunting prospect, but if you feel like you're in that place where you need that outside, expert help to get you to your next level, I'd truly highly recommend looking into it!
If you'd like to have a chat with me about your business, I'd be more than happy to! I offer free calls where we can just talk about your business, discuss what you need to do to reach your next level, and see if we'd be a good fit to work together! If not, keep looking and book calls with other coaches until you find the right one.
But if we are, we can start working together to get your income to that place where your dreams start coming true 😉
So if you're up for finding out if we'd be a good fit, book a free call with me here! No strings attached, and no hard feelings if you'd rather keep looking 😉
There you have it! A full list of the first 7 tools and resources you should invest in if you're serious about your online business!!
What about you? What's the first thing you invested in when you started your business? I'd love to hear from you, share in the comments!
Hope to hear from you soon 🙂
And in the meantime, take care!
Jen
P.S. Don't forget to pin this for later!