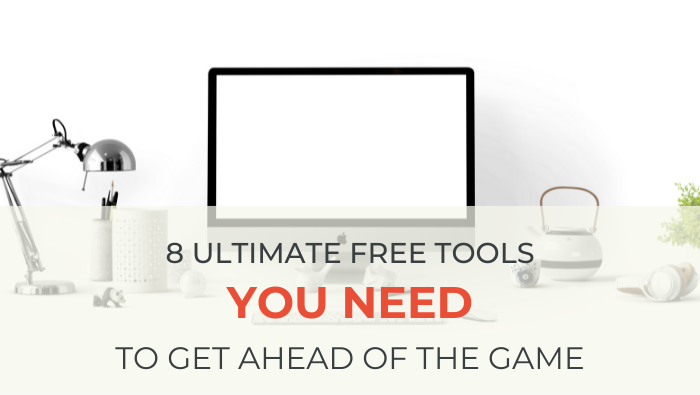 If you want to start a successful online business, then you need to manage it as a business and not a hobby.
I think this is where many wannabe online entrepreneurs get it wrong. Because there's so much free information on the internet, they think that they can be the one to beat the odds and manage to do it all for free. They somehow think they'll be able to succeed where so many others failed, and get rich without spending a dime.
Well, sorry to burst your bubble, but if you want to be successful, or even have the smallest hope to be, then you need to be in the right mindset, which is the business mindset. And this, very simply put, means that you need to invest in your business if you're serious about seeing it take off. But it can be very scary to make the transition from free to paid – even when you're serious about your business – especially in the beginning before you're making money yourself.
So if that's you, if you're serious about your business but are afraid to shell out any money yet, I got your back. Here's the list of tools and products that I recommend you begin with, before you're ready to invest. (Keep in mind that I'm a huge believer in investing in yourself and your business, so I do believe that some of these tools aren't the best for growth, but they are, in my opinion, the best free options out there!)
If, on the other hand, you're ready to take the next step and invest in your business to see serious growth, then here's the list of the first 7 tools you should invest in!
Anyway, this list is going to be short and sweet, as I'm only including the tools that are, in my opinion, absolute MUST HAVES.
So here they are!
To drive traffic to your site:
We are lucky enough to live in an era where we can reach literally millions of people across the world with a simple click – how crazy is that?? And all of that thanks to social media. It's absolutely fantastic to drive traffic to your site.
Of course, which social media site you decide to use will vary greatly depending on your target audience, and on the kind of business you are and what you're selling. You'll have to do a bit of research to determine where your target audience hangs out, and what kind of content they respond to.
But from what I've seen and heard a lot of entrepreneurs say, Pinterest is the place to be. Although yes, technically, Pinterest is NOT a social media but a visual search engine, I'm still putting it in the same bundle because we're using it to drive traffic to our offer :).
And I've seen results for sure with my site. Out of all the views, I can say without exaggerating that over 95% comes from Pinterest (even though I'm present on other social medias as well!).
Now, while this isn't what you want in the long term (you don't want all your eggs in the same basket, basically), it's great to drive traffic in the beginning and help your site get on search engines' radars, which can be really hard to do in today's world.
So even though which social media site you choose will depend on certain factors, if your target audience is at all present on Pinterest, then I highly recommend you be there too!
To keep in touch with your audience:
If you want to build a real community, a tribe as they're now called (and you should want to do that 🙂 ), then you will need to use email. And to use email, you'll need an email provider – you do NOT want to have to send emails manually!
As we're talking free tools here, then I'm going to recommend MailChimp (even though it's no longer the one I use – I now use FEA Create, which is not free).
I used MailChimp for about a year before I decided to get serious about my business, and it worked fine. I'm not going to go into detail here about pros and cons of using MailChimp.
I'll just limit it to saying that I think it's a great tool to use when you're just starting out, as it's free. But as soon as I became serious about growing my email subscribers, I found it a bit too much of a hassle. I found it difficult to segment my list as much as I wanted to, for example. But that could be just me!! 🙂
Again, it's really going to depend on how you want to use your list, and where you are in your business!
If you're not sure about whether or not you're ready to switch from MailChimp to a paid provider, or even if you want to at all, regardless of where you are in your business, then I recommend reading this article here! It was written by ConvertKit (another paid provider) about when you shouldn't switch from MailChimp to them, but the logic applies for other providers as well. (Warning: the article is a little snippy at times, but who doesn't like a little satire, right? ;))
To schedule your social media:
Pfff… If you're anything like me, then social media may not be your favorite thing. Sure, you love hanging around on Pinterest, looking at all the great ideas and getting really jealous of how talented everyone else is, but using social media for marketing? Pfff…
*in an old-timey voice and accent* Well, unfortunately for you and I, my dear, we must live with our time.
And that means using social media. I'm mean, like I said above, it's actually pretty awesome when you think about it. All you have to do is write something on a site, and thousands of people can see it! How cool is that? And do you even realize the potential that represents for your business??
It's absolutely huge!!!!
But if you want to be able to actually wield the power of social media (that's right, I said "wield the power"…And I'm not ashamed of it, either! 😀 ) then you have to spend time on it. Interact with others, and create relationships with them.
And that takes time. A lot of it.
So what's one way to minimize time and effort while maximizing results? Using a social media scheduler. There are a bunch out there, but to be honest I've only ever tried Buffer. It's free, and as I've always found it works for my needs, I've never looked any further.
It allows you to schedule posts for Facebook, Twitter and Instagram. The only inconvenience that I've found is that the number of posts you can schedule ahead of time in the free version is limited (to 5, if I'm not mistaken).
But hey, beggars can't be choosers, right?
To keep track of your analytics
When you're serious about starting a business online (or any kind of business, for that matter), it's really important to track your analytics.
Online, this means knowing how many people are coming to your site, what pages they are visiting, how long they are staying, what they are buying, what they are not buying, etc. You need this information because it's going to be your roadmap.
You need to know what your customers like and don't like, what works and what doesn't, so that – and this is a little obvious – you can do more of what they like and stop doing what they don't.
And all of this you can do only if you've got the information, the analytics.
And the best tool for this, hands down, is Goole Analytics. And best part is, it's free!!
All you have to do is sign up with them, connect your domain, and you're all set! Within a few days, you'll begin to get some really great insights into your site. You'll know how much time people spend on your site, what pages they spend to most time on, which page they exit the most, and so many other things!
Another analytic you'll want to pay close attention to is where your visitors are coming from, i.e who is sending you your traffic.
Knowing this will be a huge asset when you're developing a marketing plan!
To help plan your content
If you create content, then this is really useful. I had always wanted to try keyword planners, but they all required payment, and I wasn't really up for it.
And then I found Google's keyword planner. Granted, it's designed for marketers who want to invest in ads and is therefore not exactly geared towards content creators, but it's still got a lot of really useful information!
Read this article here for a full tutorial on how to get the most out of the keywords planner. My mind was blown – pretty sure yours will be too!!
I just found this one not too long ago, but it's absolutely fantastic!! It analyzes the headline you put into it according to several factors, such as the words you use, your headline length, your first and last words and the sentiment it conveys. It then gives you your final score with a detail of the different aspects!
This is super useful information for those of you who want to write attention-grabbing headlines, that will do well with SEO too!
Again, I've only just found it, but I intend to use it for every article from here on out. An absolute must-use!! (It also exists for email subject lines!)
To make eye-catching graphics
For those of you who don't already know this tool, it's fantastic for making great graphics and images – all for free! Sure, they've got paid features and upgrades, but who doesn't, right? I personally find that there's quite a decent amount that can be done with the free features, so I have not upgraded to paid yet, and do not foresee that I will any time soon.
It's also insanely user-friendly – even for those of us who are both artistically and technically challenged.
I recommend for sure!
This is a great site for free stock photos. The pictures are license-free, and can be used for both commercial and non-commercial purposes (this is the case as of writing this article, but may have changed. You should always check you have the correct permissions for any visual you use).
I used them for a long time, before finally deciding to pay for my stock photos (again, it was when I got serious about growing my business. I now use Depositphotos).
All in all, this is a great site. But be aware: because the photos they have are truly great, most of everyone uses them which can harm your visuals – especially when you're creating pins for Pinterest (the algorithm has trouble knowing what the pin is about, as that same image has been used for so many things so many times)